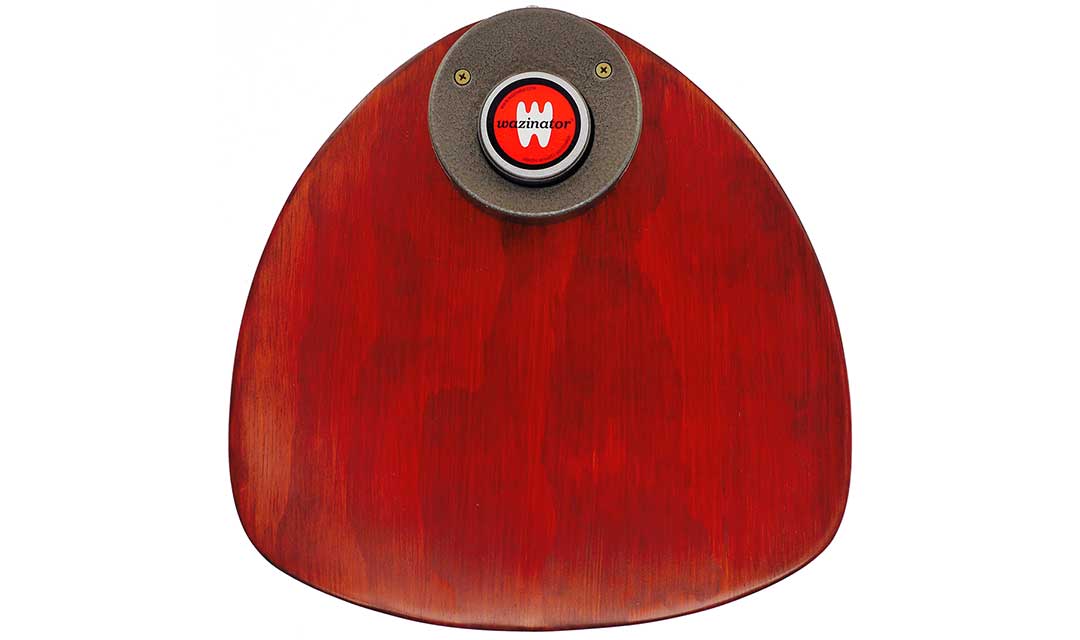 Gorgeous deep timber tone - complements the acoustic guitar

Pickup is activated via compressed air when timber pad is stomped

Perfect for live performance - large foot size for standing or sitting

Resistant to feedback and movement - grippy rubber underside

Size - 14.5 x 14 x 3/4 inches, 36 x 35 x 2.4 cm Weight - 2.8 lbs, 1.3Kg
| | |
| --- | --- |
| Joe Robinson 2017 - "This stomp sounds so great! Huge and warm, it just has a great tone. When I'm solo, i always have a Wazinator on stage with me. Wazinator make great products and I'm super proud to play these stomp boxes." | |
CLASSIC KSB319 - TIMBER TONE WITH BASS PUNCH
You'll find the Classic KSB319 is a beautiful instrument to play. The deep woody tone is what first jumps out at you. This is due to the unique compressed air activation system. As you stomp on the timber surface, this compresses air in the cavity. This air is forced into the diaphram of the pickup. This makes a low and pleasing tone with harmonics similar to an acoustic bass drum.
The Classic is resistant to feedback and has no interference or buzzing problems on large stages. The Classic is a nice comfortable size to have on stage, right under your foot. The large timber pad suits playing with heel or toe, and can be played sitting or standing. The rubber backing prevents the unit from moving around as you stomp. The Classic makes a perfect companion to your acoustic guitar or percussion rig. Of course the timber can handle the full weight of an adult, and some of the heaviest stomping ever.
TESTIMONIAL - Chris Mathews AU - email to Wazinator Australia 2016
"I was given one of your stomps about 5 or 6 years ago now by a good mate of mine who stopped gigging, and he figured he didn't need it any more - one of the best things I've ever received I reckon! I do on average around 150-200 shows a year all over Australia of all original music and tunes, in some of the hottest and sweatiest gigs known to mankind, and I beat the absolute bejeezus out of it, and its still working 100% to this day! Best thing about it is the sound it puts out, and I love the dynamic of it, its quiet when you want it to be, and loud and punchy when you give her a solid whack! By far the best stomp I've ever used or heard, and I've tried out pretty much every one there is!
The one I've been using is looking pretty beat up and dusted up now, but she stills works an absolute treat - when I got it, I ended up putting some squishy rubber stuff on the bottom of it, which I believe you now do with the newer models, and also a little rubber pad on the top, which is great cause you can either hit that or just off it on the timber to get some nicely different sounds.
Anyway, enough rambling from me - just wanted to say thank you for making such an awesome piece of equipment that is absolutely integral to my stage sound and show! You're a legend and I do thank you for it! If you give me an email address, I'll send through a picture of it to you to show you how she's looking after approximately 1200 shows!"
How does it sound?
It's huge and most importantly musical. The Classic KSB319 has a hefty low end with a round and woody tone. The frequency response fits perfectly below an acoustic guitar making it the ultimate companion for a solo artist. OR if you're a percussionist this is a very portable acoustic kick drum.
Quality Construction
The Classic KSB319 is hand made and tested for build quality and sound quality. Made from plantation grown renewable pine and worked into an acoustic resonant shape. The electronic components are imported and assembled in Australia.
Grip
The tough foam backing is designed to give you the ultimate grip whether on a timber, carpet or concrete stage.
Pick Up System
The pick up system is an original design owned by Wazinator Australia. It is a pump action unit that is akin to having your foot directly connected to the woofers in the PA system or your bass amp. The unit is also sensitive to acoustic sounds made by your foot on the timber pad.
Feedback Resistant
Feedback is a common problem with homemade stomp boxes. The microphone in the box can pick up vibrations in timber stages and transfer the rumbling sound to the speakers causing a low end feedback loop. The main cause of this feedback is from boosting the low frequencies very high. The Wazinator generates it's bottom end using a patent pending pump action design and requires little low frequency boosting. The KSB319 is also inherently resistant to feedback at high volumes.
Built in safely valve
The Wazinator KSB319 is equipped with a safety valve that lets excess air out when you kick hard. This safely feature is designed to prevent you from blowing your speakers with an all mighty stomp. The valve acts like a gain compressor and in no way effects the sound quality at lower pressure stomps, it only affects very heavy stomping.
Passive pickup design
The pickup on the KSB319 is entirely passive. The main advantage of a passive design is that it needs no power supply. Also there are no flat batteries to worry about during a live performance. An average stomp produces about -8 dB of gain which is about the same as an electric guitar with humbucking pickups. This means it is suitable for direct input into a bass amp, but may need a preamp boost into a mixing desk.
Get your Wazinator Classic KSB319 with gig bag, rushed to your doorstep, just in time for your next gig. Awesome timber tone with plenty of subs. Nice variation in tones around the edges and centre of timber pad. Perfect for standing and stomping. The Classic Wazinator is a classic and has the same design since 2005.